Another month which means another month of new songs, albums, and releases. There were quite a few interesting comebacks and returns such as the solo debut of SNSD's Yuri (also my bias in SNSD) as well as YG's iKON who made another return after their hits 'Love Scenario' and 'Killing Me' earlier this year.
SNSD/Girl's Generation Yuri
Girl's Generation has made quite a few interesting changes in its line-up this year. Members Seohyun, Tiffany, and Sooyoung decided to part ways with SM, leaving Taeyeon, Yoona, Sunny, Yuri, and Hyoyeon to maintain the girl group's brand name and legacy. Earlier this year, they returned as five with 'Lil' Touch' and then Yuri made her solo debut with 'The First Scene' on October 4, 2018. Considering that this is my bias's solo debut after an entire decade, I had to check out her solo debut.
This slideshow requires JavaScript.
Upon just seeing the teaser images, I was already so excited. Yuri looked drop-dead gorgeous in all of them and the music video also highlighted her timeless beauty (though it did look a little cheap lol). After listening to the mini-album, I'd have to say that 'Illusion' would be my most favorite song followed by title track 'Into You.' It's been a week since I've listened to the album and 'Illusion' is – by far – the track that I listen to the most. For Yuri's solo debut, 'The First Scene' isn't bad and actually achieved quite a few impressive results such as debuting at #2 on the Gaon Album Chart and #10 on Billboard's World Albums chart. Considering the unexpected success that Yuri achieved with this somewhat random and spontaneous solo debut (SM has really only put in effort and time into Taeyeon's solo career considering that she makes the most profit as both a solo artist and member of SNSD), I wouldn't be surprised if SM decides to give Yuri another solo comeback in the future though I feel like that's highly unlikely.
iKON
Okay, I wasn't expecting to get teary-eyed upon watching the music video, but something about the MV and song must have got to me because I did start feeling a little sentimental while watching iKON's 'Goodbye Road.' The song is a ballad (just in time for fall) and I honestly wasn't expecting much upon watching the teaser. I thought it was just going to be another decent ballad from iKON and 'Goodbye Road' was that, but also a little bit more.
While the music video didn't do much (the choreography shots looked a bit low quality, but I liked all the shots of the members), it was the song that stood out more to me. The song added an extra touch with the violin in the back that made me enjoy the song much more than I originally expected. It threw me off guard and made the song much more enjoyable. iKON has other ballads like 'Don't Forget', 'Airplane', and the emotional 'Climax' that I enjoy, but I can't say that I've found another ballad from the boy group that's matched the level of the ones I've just listed. However, I think it's safe to say that 'Goodbye Road' might be one of those iKON ballads where I might keep listening to it – all thanks to the violin in the back. Plus, yay for better line distributions where DK (Donghyuk) and Yunhyeong get to sing more than once in a song. It's about time!
NCT 127
NCT 127 is probably my least favorite NCT sub-unit, but it is also the sub-unit that is "fixed" meaning the members for each comeback is the same every time (SM added Jung-woo just last month in September). The boy group returned with a new album titled 'Regular-Irregular' just earlier last week on October 12, 2018. NCT 127 made their debut performance of title track 'Regular' on the Jimmy Kimmel show and then returned to South Korea to promote on music shows.
While I find the lyrics to the title track a bit funny and ironic (considering that they're talking about making cash when SM is infamous for not paying their idols well), the song was definitely catchy. As with all of NCT's songs, the line distribution could have been a lot better (I wished Johnny could have gotten more lines and screentime. The same with Taeil and pretty much any of the other members lol). Mark and Taeyong take up most of the screentime and lines again, but that doesn't really come as a surprise to me anymore. Just like with Bobby and B.I. in iKON, Mark and Taeyong is the duo that SM is promoting the most. However, just like B.I. and Bobby in iKON, hopefully SM will learn to give the other members more lines and better screen time.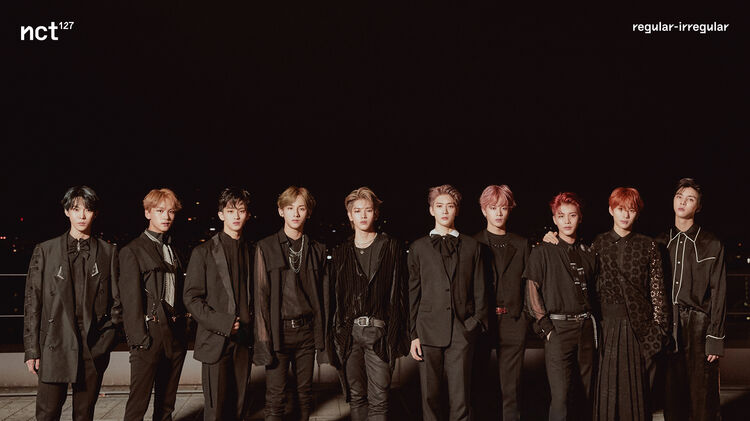 I also gave their first full-length album a listen and I have to say that it wasn't bad. It was a pretty decent album and I have a few songs from the album that are stand-outs: City 127, Regular, Knock On, and Fly Away With Me. NCT 127 also recorded an english version of title track 'Regular' which was a pleasant surprise. Some of the english lyrics are a bit questionable (Jaehyun's "I be walkin' with the cheese, that's that queso queso"), but the lyrics overall were just fine. Nothing too much to worry about, lol. That being said, I still do prefer the Korean version though for the biggest reason being that I don't understand what NCT 127 is singing about (I know I know. Just let me wallow in my pool of naivety and ignorance). Also, I have to admit that this era is probably NCT 127's best styling. Every member looks amazing and I'm especially liking Taeil's red hair. It suits him so well. Overall, this era for NCT 127 was pretty good and consistent. Hopefully, their future comebacks will also be like 'Regular-Irregular' and maybe even better.
Babylon
R&B artist Babylon returned with his 1st full-length album 'CAELO' and featured many prominent hip-hop artists like BewhY, the Quiett, Verbal Jint, and much more. The album consisted of 13 tracks overall, and they were all amazing. Kid you not, each track is amazing and you should definitely listen to the entire album if you have the time. I first discovered Babylon when I decided to check out his song '처음 본 여자는 다 예뻐' featuring Geek's Lil Boi (probably explains why I listened to the song lol. I LOVE Geeks). It was a song that I liked so he's always been an artist that I looked out for ever since. He then released one of my favorite tracks from him (and ever to be honest) called 'Ocean Drive' featuring San E. That song will forever remain iconic to me. Just listening to the song now brings back so many memories because it was a song that I seriously never stopped listening to, lol.
With Babylon's new album, I just knew I had to check it out. I just knew there were going to be amazing songs on the album and as I expected, each track was so good. While I would recommend you listen to the entire album, my personal favorites would have to be: Karma, Rose, and Sincerity. It amazes me how an album could sound so good and consistent throughout the entire thing. Babylon continues to impress; he never fails to deliver with his music and I'm glad to call myself a fan. He's a talented vocalist with great songs. What more could you want?